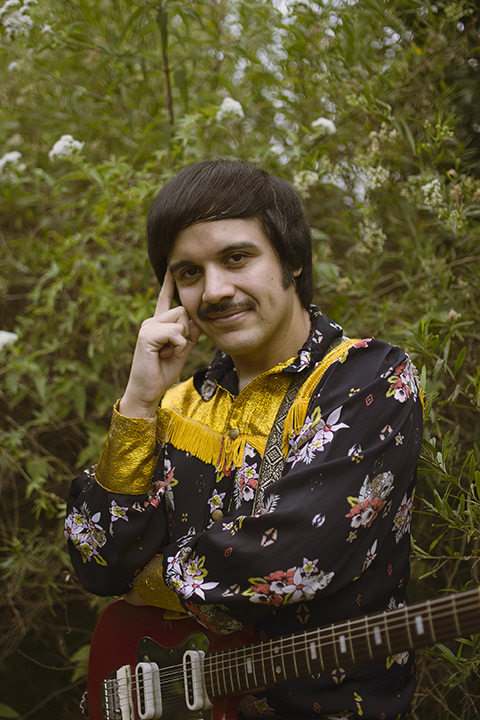 Foto: Kai Lee
ESPAÑOL

El proyecto musical de Rolando Bruno nace en el 2005, paralelamente a su otro ex grupo Los Peyotes, en la soledad de su habitación y junto a su máximo aliado, su computadora, que utiliza para crear sus bases cumbieras.

influenciado por la psicodelia, el rock de los 60s y la cumbia peruana, Rolando nos brinda un show energético a puro baile amazónico en formato "one man band" u "hombre orquesta" acompañado por su orquesta midi, reducida en un ipad, y por su guitarra. La dosis justa de cumbia, sonidos del mundo y rock vintage.

Su "cumbia trash" llegó a varios puertos del mundo, además de incontables shows en argentina y países vecinos, cuenta con varias extensas giras por Europa y 2 visitas a Japón. Participando de festivales como GUACAMAYO FEST(España), FESTIVAL BEAT (Italia), FUNTASTIC DRACULA CARNICAL (España), BUSKERS FESTIVAL (Suiza), TUBINGEN CINE LATINO FILM FESTIVAL (Alemania), FUJI ROCK (Japon), SURF N TURF OUTDOOR (Holanda), SLAP! (España), NOG EEN PAAR HETE ZOMERS (Bélgica), HUMANICITÉ (Bélgica), SURF-O-RAMA FESTIVAL (España).

Tambien formó su super grupo en Buenos Aires, presentándose como "Rolando Bruno y el Grupo Arevalo", con un seleccionado de músicos del under porteño, de bandas como Les Mentettes, Alfonso el Pintor, Antropofónica, Los Peyotes, Los Álamos y Pecera.

Este trotamundos sigue presentando sus nuevas canciones por todos los puntos del planeta, con giras por Europa y en Buenos Aires tocando junto a EL GRUPO AREAVALO, adelantando su nuevo disco, grabado por Miguel Mactas (Los Espíritus) que dará a luz para la segunda mitad del año (2018), así que a moverse y a menear que "el mundo está cumbiando".
ENGLISH

The Rolando Bruno Cumbia project, was born in 2005, alongside his former group Los Peyotes (Garage Punk from Buenos Aires) in the solitude of his room and with his best friend, his computer, which he uses to create his cumbia backing tracks.

He returns to Buenos Aires in 2015 after living 2 years in Spain, when he decided to create his band called ROLANDO BRUNO Y EL GRUPO AREVALO formed by experienced musicians of the INDIE MUSIC SCENE FROM BUENOS AIRES. They´ve played in bands such as Los Alamos, Antropofónica, Los Peyotes, Alfonso El Pintor and Les Menttettes.

Their style is basically CUMBIA, but Rolando says: "CUMBIA TRASH" so as to involve that peculiar vintage graphics and visuals that charazterizes him (is a mix of cumbia chicha from Peru, some 80s 90s argentinian cumbia with psychedelic rock) Their show is a guarantee of tropical dancing!

Rolando played several times in Europe, in festivals like GUACAMAYO FEST(SPAIN), FESTIVAL BEAT (ITALY), FUNTASTIC DRACULA CARNICAL (SPAIN), BUSKERS FESTIVAL (CH), TUBINGEN CINE LATINO FILM FESTIVAL (GERMANY), FUJI ROCK (JAPAN), SURF N TURF OUTDOOR (HOLLAND), SLAP! (SPAIN), NOG EEN PAAR HETE ZOMERS (Belgium), HUMANICITÉ (BELGIUM), SURF-O-RAMA FESTIVAL (SPAIN) he had twice visited Japan, and also neighbouring countries like Chile, Uruguay and Brasil.

Rolando Bruno y El Grupo Arevalo contastly plays in the musical circuit of Argentina. They´ve just finished reccording Rolando's 2nd album, recorded by Miguel Mactas (Los Espiritus) and will be released during 2018. A super bomb of tropical rhythm and fuzz guitar cumbia!